January 26, 2013
Box Score (from Flyers.NHL.com)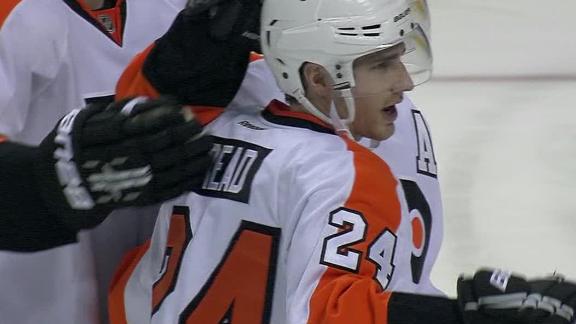 There isn't any better way to say it. The Flyers dominated.
Fresh off their win against the New York Rangers, the Flyers crushed the Florida Panthers 7-1 on Saturday night, scoring more goals in the game (7) than they had in their first four (5).
Matt Read stole the show in Florida by earning his first career NHL hat-trick. He scored a goal in all three periods and accomplished the career milestone in only three shots.
In the first period Wayne Simmonds (2, 3:10) tipped in a shot from Kimmo Timonen, on the power play, to put the Flyers up 1-0. Then Tye McGinn (1, 18:51) scored his first goal in the NHL to put the Flyers up 3-0 late in the first, following Read's (1, 7:12) first goal of the night.
Luke Schenn (1, 19:47) scored his first Flyers goal late in the second period giving the Flyers a 5-1 lead.
Read (2, 18:34) scored his second of the night just over a minute prior to Schenn's, and Florida's Peter Mueller (1, 19:10) scored the Panthers' lone goal in the second.
Read (3, 0:54) completed the hat-trick just under a minute into the third period with a power play goal, then Ruslan Fedotenko (1, 8:00) scored his first goal of the year to give the Flyers the six goal lead lead.
The Panthers outshot the Flyers 31-26, but Ilya Brygalov played an excellent game in goal, making 30 saves.
The Panthers' starting goaltender Jose Theodore only lasted the opening period, after surrendering three goals on nine shots.
Scott Clemensen replaced Theodore in net for the second and third periods, but did not fare much better with four goals allowed in 11 shots.
Mike Knuble, who played in his first game as a Flyer since the 2008-2009 season earned an assist on Read's third goal.
Danny Briere also made his return to the Flyers' lineup on Saturday night. Briere was credited with an assist on the first goal when the scorer was originally thought to be Kimmo Timonen.
Briere lost the assist when the scorer was changed to Simmonds.
The Flyers (2-3-0) will look to wrap up their weekend in Florida at .500 with a Sunday night match-up against the Tampa Bay Lightning (3-1-0).
(Image from
ESPN.com
)