January 25, 2012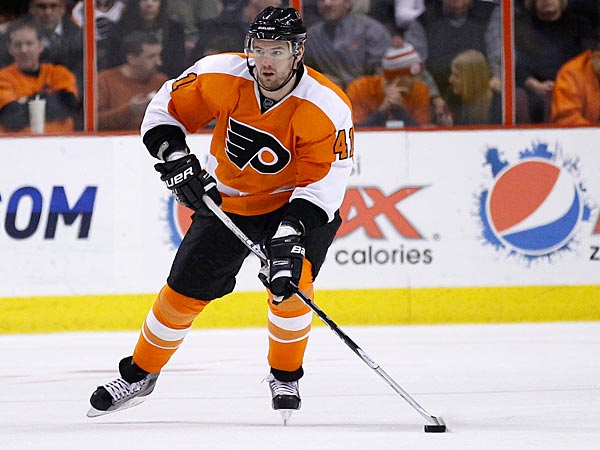 The Flyers' injury situation continues to get worse.
The team learned that forward Scott Hartnell will miss 4-8 weeks with a broken foot on Thursday night, and now they will have to go without defenseman Andrej Meszaros for at least a month.
"Andrej Meszaros has a left shoulder injury," Flyers GM Paul Holmgren said to the media. "He's going to miss some time and right now we're hopeful it's going to be a four-week rehabilitation of the injury. It's a muscle injury in and around the shoulder joint and we just have to get it strong. We believe he's going to be out for about a month."
Meszaros took a hit from New York Rangers forward Ryan Callahan late in the second period of Thursday night's
2-1 win
. He did not return for the third period and was seen
wearing a shoulder harness
after the game.
It's a tough break for Meszaros.
He will miss a huge chunk of the season due to the lockout shortened schedule. Plus, he had surgery on the same shoulder back in March 2009.
During the off-season,
Meszaros tore his Achilles tendon,
but was able to recover in time to start the season with the Flyers thanks to the lockout.
The Flyers have relied on Meszaros more than expected in the four games played thus far, considering that he did just recently come back from a torn Achilles. He has averaged 18:09 of ice time with a -1 rating.
Veteran defenseman
Andreas Lilja has been called up
from the Adirondack Phantoms to fill in for Meszaros.
Paul Holmgren also gave the media an update on Danny Briere, who has yet to play this season due to a hairline wrist fracture.
"I mentioned it's 50/50 on the weekend," Holmgren said. "I don't have anything further on that. He's still possibility Saturday, probably a better chance on Sunday and an even better chance on Tuesday, but we'll see how he is tomorrow morning."
Forward
Zac Rinaldo is still out from a skate laceration
in his leg that he sustained last weekend against Buffalo.
Veteran forward
Mike Knuble
has
officially joined the Flyers
and will travel with the team to Florida for Saturday night's game against the Panthers.
(Image from
Philly.com
)