January 13, 2013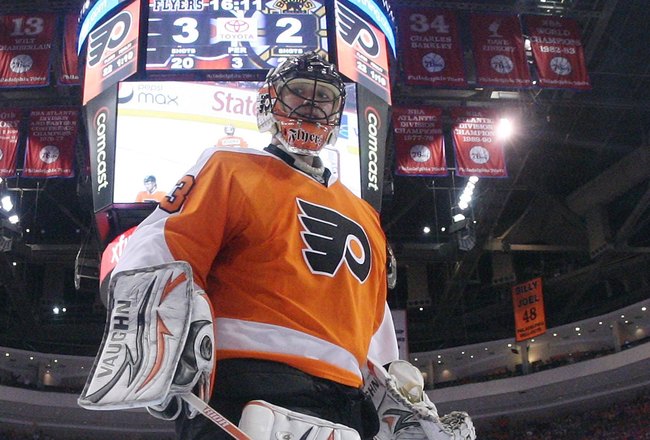 Brian Boucher will make another stop in Philadelphia.
The Flyers acquired the 36-year old goaltender from the Carolina Hurricanes along with prospect Mark Alt, in exchange for minor league player Luke Pither.
This will be Boucher's third run with the Flyers' organization. He started his career with the Flyers, playing from 1999 through 2002.
Then Boucher returned in the 2009-10 season helping the Flyers make the playoffs on the last day of the season, by making saves against Erik Christensen and Olli Jokinen in the shootout to beat the Rangers.
In case you forgot.
Behind both Boucher and Michael Leighton, the Flyers made their way to the Stanley Cup Finals in 2010.
Despite making the playoffs in the 2010-11 season, the Flyers went through a goaltending carousel with Boucher, Sergei Bobrovsky and Michael Leghton each getting time in the first round against Buffalo.
The Flyers would beat Buffalo in seven games, with Boucher starting the seventh game, but it didn't help them get past the eventual Stanley Cup Champion Boston Bruins.
After the 2010-11 season, the Flyers went in a different direction by signing Ilya Bryzgalov, and Boucher went on to sign a two-year deal with Carolina.
Backing up the Hurricane's starter Cam Ward last year, Boucher only played in 10 games before a groin injury that required surgery ended his season.
Over his 14-year career, Boucher has played in 324 regular season games and started 287 of them. He is averaging a .901 save percentage with a 2.71 goals against average.
Iyla Bryzgalov is the Flyers starting goaltender right now, and Michael Leighton is expected to be Bryzgalov's backup.
According to
a tweet by CSNPhilly.com's Tim Panaccio
, Boucher will probably end up with the Flyers' AHL affiliate the Adirondack Phantoms.
Boucher is insurance for the organization and likely assigned to Phantoms out of camp
- Tim Panaccio, @tpanotchCSN
(Image from
BleacherReport.com
)