January 10, 2013
Philly.com
NHL Training Camps open up on Sunday, and the puck drops for the regular season just under a week later.
The Flyers have a lot of question marks going into the shortened season, and there are a lot of different ideas of what could happen.
Here are some of my predictions.
Bryzgalov buys more time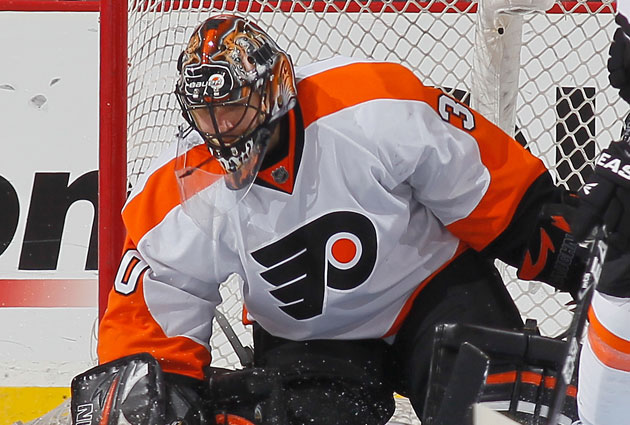 With the new inclusion of two contract buyouts per team, the popular idea among fans is for the Flyers to use one of them to amnesty Ilya Bryzgalov's nine-year, $51 million contract.
There were high expectations for Bryzgalov last season, and an inconsistent year didn't help him meet them.
These next 48 games will be a test for Bryzgalov, but based on evidence from the second half of last season and comments he has made since the end of the lockout, it is a test that he is more than capable of passing.
Last year can be considered an adjustment period for Bryzgalov. He left a small hockey market in Phoenix for one of the biggest markets in the NHL, and the bigger the market, the higher the expectations.
Bryzgalov was aware of that and has a better idea of how to handle himself for this season.
"I had a great experience last year," Bryzgalov told Frank Seravalli of the Daily News. "I understand lots of things, how it works here. Fans, media, even the management of the team. I made some notes in my head and I'm going to follow them."
General manager Paul Holmgren also spoke to Seravalli and made it clear that he has confidence in his goaltender.
"He knows what happened last year," Holmgren said. "He knows the expectation levels here. I think he's going to be great and I'm looking forward to it."
March 2012 cannot be disregarded when talking about Bryzgalov either, because the month was his best showing as a Flyer thus far and showed that he actually can be everything the Flyers paid for.
Bryzgalov went 10-2-1 with a .947 save percentage and a 1.47 goals against average, which are very impressive numbers for any goalie.
If Ilya Bryzgalov can play anywhere near the way he did during the month of March, then he should be around past the 2013-14 season.
One more thing, Bryzgalov also has some pressure taken off of him since Sergei Bobrovsky was traded to Columbus.
There were points last season where Bobrovsky looked liked he was going to become the starter and that probably got to Bryzgalov a bit.
Now that Bobrovsky is gone, it is clear that Bryzgalov is the Flyer's starting goaltender for this season (no offense to Michael Leighton).
(Image from CBSSports.com)
Bruno Gervais has a career year
Gervais has never been an elite defenseman, and he won't be that guy for this team. However, there is reason to believe that Gervais is capable of playing his best hockey in Philadelphia.
For starters, Gervais seems to be comfortable in Philadelphia.
"It's a beautiful town, a beatiful city," Gervais said when speaking to the media on Wednesday. "I'm a big fan of the movie Rocky, and you know, the movie Invincible with Mark Whalberg, right? So I got a little bit of history down with Philly."
Then Gervais has the added benefit of playing with his longtime friend Max Talbot. The chemistry and possible friendly competition generated from the relationship could not only bring out the best in Gervais, but also the best in Talbot too, and Talbot had a career year last season.
Stat-wise, Gervais has a lot of room for improvement. He was -14 in 53 games played with the Islanders in the 2010-11 season, then -4 last season in 50 games played with the Tampa Bay Lightning.
With the defense already struggling, Gervais could be relied on more than ever before in his career.
If he finishes the year with a positive plus/minus rating, that will be a success.
(Image from BroadStreetHockey.com)
The Flyers will beat the Rangers in at least one game
Whether the Flyers play the Rangers four or five times this season, it is hard to imagine that the Flyers lose every game they play against New York like last season.
The biggest factor behind this prediction are comments made by Rangers goaltender Henrik Lundqvist, where he said that it will take him some time to reach top performance when the season starts.
Lundqvist's performance in goal was a big reason why the Flyers struggled against the Rangers last year
The regular season schedule has yet to be released, but if the Flyers face the Rangers early on, it will be the perfect opportunity to get an upper-hand on the Rangers.
Lundqvist did not play overseas during the lockout, so he has not played for months now. Naturally, the Rangers are going to have a rusty goaltender, and that is good news for the Flyers.
(Image from ThePuckDoctors.com)
Flyers get to the Stanley Cup Finals
Keith Jones said so.....