August 6, 2012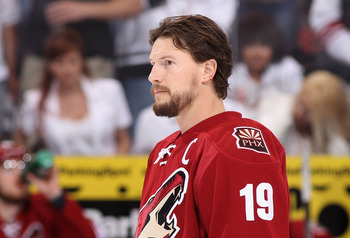 bleacherreport.com
It seemed like any confusion surrounding where free agent Shane Doan will go was cleared up when he said that
his goal was to remain in Phoenix.
Again, this is not the case.
CSNPhilly.com
now reports that
Doan has a list of three teams
he would prefer to sign with, and that is bad news for the Flyers.
Larry Brooks of the New York Post
first reported that the New York Rangers, the Pittsburgh Penguins, and the Vancouver Canucks are the tree teams that are on Doan's list.
Brooks also wrote that Doan, 36, will most likely sign with the Rangers if they offer him a four-year contract.
This news is a definite surprise, considering that Doan has publicly stated that he would like to say in Phoenix.
The Flyers were rumored to be in the mix to sign Doan since free agency opened in July. However, the Flyers, like any other team that has interest, have been waiting due to Doan trying to see if staying in Phoenix would be possible.
James O'Brien of Pro Hockey Talk
writes that the news of Doan's list may just represent his "Plan B," rather than actually being his first choices.
Doan has spent his entire 16-year career in Phoenix, it has still yet to be seen if it will continue with the Coyotes, or elsewhere.