February 10, 2013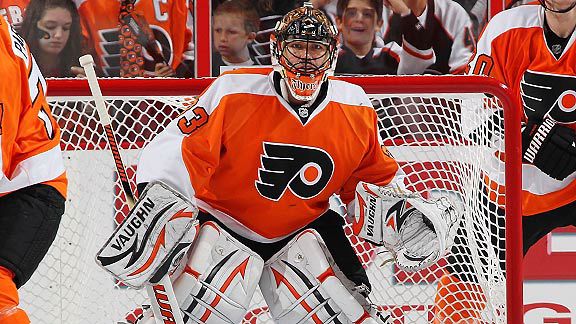 Goaltender Brian Boucher has been called up to Philadelphia according to
the Flyers' website.
The report states that Boucher will travel with the team to Canada for Monday night's game against the Toronto Maple Leafs and then for a game against Winnipeg the next night.
Michael Leighton, who started the season as the Flyers' backup for Ilya Bryzgalov, has been placed on the injured reserved with an "upper-body injury." He could be out for up to 10 days according to the
Philadelphia Inquirer's Sam Carchidi (via Twitter)
.
Leighton has only appeared in one game so far this season, which was a start in
Tampa Bay on January 27.
He made 21 saves, but allowed five goals in a 5-1 loss to the Lightning.
Boucher was acquired by the Flyers again in a
trade with the Carolina Hurricanes
after the lockout. He was sent down to the team's AHL affiliate, the Adirondack Phantoms, before training camp ended.
In six games with the Phantoms, Boucher has a losing 2-4 record with a .908 save percentage and a 2.71 goals against average.
The Flyers have a six-game road trip starting Monday in Toronto. With back-to-back games against Toronto and Winnipeg and all six games being played in a nine day span, it is very possible that Boucher will get a start during the stretch to give Bryzgalov some rest.
Bryzgalov has started 11 of the the Flyers' first 12 games. He has been one of the more consistent players on the team, posting a .921 save percentage and a 2.27 goals against average.
The middling 5-5-1 record Bryzgalov has right now doesn't tell the full story.
(Image from
ESPN.com
)