February 16, 2013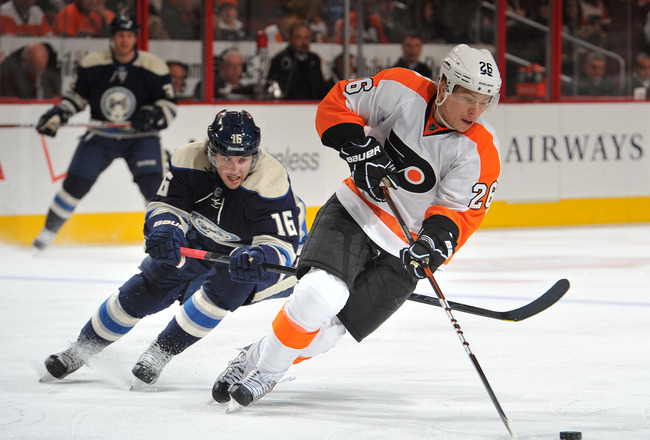 Defenseman Erik Gustafsson has been recalled by the Flyers on Saturday according to
CSNPhilly.com.
Gustafsson will be taking Andreas Lilja's spot on the roster, as Lilja has been loaned to the Flyers'
AHL Affiliate, the Adirondack Phantoms.
Gustafsson will be in the lineup for tonight's road game against the Montreal Canadiens.
The 24-year old defenseman appeared in 30 regular season games for the Flyers last season. He averaged 16:48 of ice time and had a plus 12 rating
Gustafsson also had a goal and four assists for five points in the 2011-2012 regular season.
In the playoffs, Gustafsson played in seven games averaging 15:13 of ice time and plus 4 rating. He scored a goal in the series clinching game six of the Eastern Conference Quarter Finals, helping to knock the Pittsburgh Penguins out of the playoffs.
In 32 games for the Phantoms this season, Gustafsson has four goals and 14 assists for 18 points, but also has a minus 12 rating.
Meanwhile, Lilja has appeared in only one game for the Flyers this season, which was a
2-1 loss to the New York Rangers
on January 29. Lilja skated for 9:38 and finished the game with a minus 1 rating.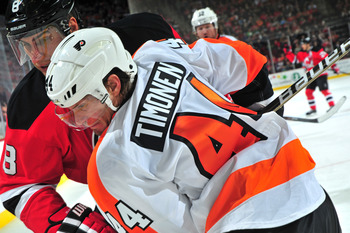 After missing the third period of Friday night's 5-3 loss to the Devils with a lower-body injury
, Kimmo Timonen will play tonight in Montreal
according to 6 ABC's Jeff Skversky via Twitter.
Timonen being in the lineup was speculated on throughout the day, as there was no word on what his injury specifically is (or was) or how severe.
Brian Boucher will start in goal tonight against the Canadiens.
Boucher appeared in relief of Ilya Bryzgalov during a
5-2 loss to the Toronto Maple Leafs
on February 11. He made nine saves but allowed a goal to former Flyer James Van Riemsdyk.
Bryzgalov will finally get some rest after staring nine consecutive games. He had a
rough Friday night in New Jersey
where he gave up five goals to the Devils.
Boucher's last start was on April 7 of last year when he made 22 saves in a
4-1 loss to the Florida Panthers as a member of the Carolina Hurricanes
.
The Canadiens will also go without their starting goaltender Carey Price, who is out with the flu.
Peter Budaj will be starting instead.
In two starts this season, Budaj allowed nine goals in a 5-1 loss to the Ottawa Senators on January 30, and four in a shootout loss to the Buffalo Sabres on February 7.
(Gustafsson Image from
BleacherReport.com
)
(Timonen Image from
BleacherReport.com
)
(Boucher Image from
Phillyburbs.com
)