February 8, 2013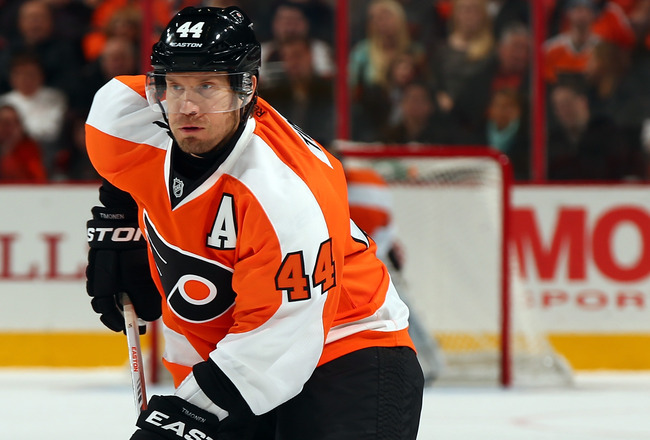 Next season is likely to be the last of Kimmo Timonen's NHL career.
The veteran defenseman answered questions from the media about his recently signed one-year contract extension, following
Thursday night's shootout loss to the Florida Panthers
.
"99 percent sure that is my last," Timonen said of what the extra season with the Flyers represents.
Timonen will turn 38 in March, and is likely to play in his 1,000th NHL game this season (at the time of this writing, he has played in 981).
The news of Timonen's contract extension
broke on Wednesday night
, but talks have gone back to before the start of the lockout shortened season.
"I talked with [GM Paul Holmgren] before the season started," Timonen said. "He wanted to know where I'm at for playing one more year. I said coming off from the lockout, coming off from back surgery to give me about ten games, I want to see how I feel."
"A couple days ago I talked with [Holmgren], said I feel pretty good. It was pretty easy after."
Flyers General Manager Paul Holmgren spoke with the media about Timonen's deal before Thursday night's game.
- Holmgren also gave injury updates on Wayne Simmonds (concussion), Scott Hartnell (foot) and Andrej Meszaros (shoulder) in the video above.
"I have talked to Kimmo during the summer," Holmgren said. "I've talked to him during the lockout. He wanted to make sure how he felt, so this was an ongoing thing and it just kind of came to a point here this (Thursday) morning."
Timonen underwent
off-season back surgery
and did not play competitively for an extra four months due to the lockout. But it might take a lot more to keep him off the ice.
"He is a strong little guy," Holmgren said. "He has been through a lot, but also plays through a lot. That's part about being a good pro. Tie your skates up, and you get out there and play."
"He's been a good soldier, and he's been a good Flyer."
(Image from
BleacherReport.com
)
(Videos from
Flyers.NHL.com
)