March 15, 2013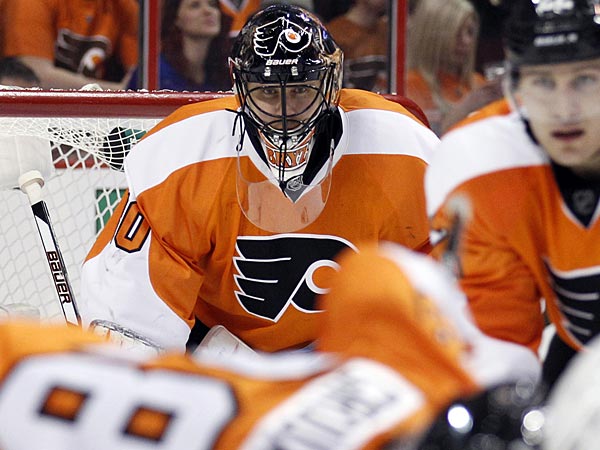 They went 1-4 in the five games prior to Friday night's home game against the New Jersey Devils, losing crucial games to the
Rangers
,
Penguins
,
Bruins
and
Devils.
Wednesday night's game against the Devils marked the start of a road-home series against the Atlantic Division rival, one that that put the Flyers' playoff hopes at stake.
Ilya Bryzgalov put it best when speaking to reporters on Tuesday.
"You win both games, and you tied with them and you have a god chance to continue to battle for the playoffs," Bryzgalov said. "You lose both games, you done. That's it. This is it."
So how did the Flyers respond to the situation?
When the Flyers returned for Friday night's home game, there was good reason not to have a lot of confidence.
But they redeemed themselves.
The Flyers beat New Jersey 2-1, in a shootout if you can believe it, to split the two-game series with the Devils and keep themselves within reach of the eighth seed in the Eastern Conference.
The Flyers (13-15-1, 27 points) currently sit in eleventh place, trailing the eighth place Winnipeg Jets (14-11-2, 30 points) by three points. The New York Islanders (12-12-3, 27 points) and the New York Rangers (13-11-2, 28 points) also sit ahead of the Flyers in the standings with all three teams having played at least two less games than the Flyers.
This team still has a lot of work to do to make the playoffs, and not a lot of time. They only have 19 games left in the 48-game schedule.
With divisional games against the Penguins (3/24), Rangers (3/26) and Islanders (3/28) on the schedule to finish out March, the road the Flyers have to take definitely won't be an easy one.